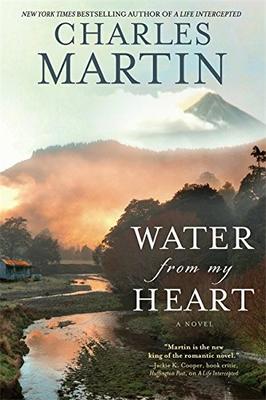 Water from my Heart
by Charles Martin is a fictional yet realistic story, centered around a true story of tragedy, hardship, saving graces, and miracles. It tells of the major impact two men - each of very different character - have on the same group of people. One man seems to have everything but, creates chaos and destruction
without
thought or care. The other who has little but,
with
thought and care, creates hope, love, respect, and the feeling of having everything one truly needs.
The story is based in facts of what happened, in Nicaragua in 1998, when a hurricane settled over Nicaragua and resulted in the explosion of a dormant volcano. Martin lays out details of some of these events in the afterword titled "On Digging a Well", telling the story of a family trapped in their shed and cut off from the rest of the world. A sound like rescue helicopters drew them out of their shelter, only for them to see a wall of water and mud stretching left and right across their line of sight.
I was so drawn into the story, that when I read about the true story events I just wanted to be able to be there - to help, and to extend to them my admiration of their character.


What an eye-opener.
It stirred me to reflect on many aspects of my life. Choices I've made. Possible impacts that I may have had on others, good or bad. Indifferences I might have had, on those possible effects. Even more so, the indifferences I might have on the impact on people all over the world, caused by other people, or natural disasters. But, also, the amazing affect that one person can have in a hopeful and loving way, on so many. Which characteristic do I wish to enhance? I feel inspired to keep growing in thoughtfulness and kindness.
--Lori--
For more information on
Water from my Heart
by Charles Martin, visit our website
here
.