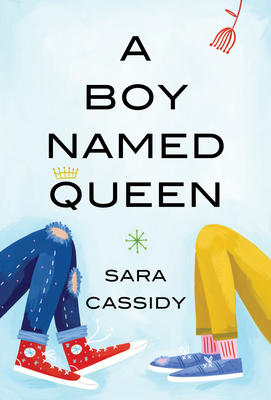 On our website (
here
), my friend and co-worker Lauryssa left a short review of
A Boy Named Queen
:
"

Short and sweet, this is an excellent story to help kids to deal with bullies and to accept others (and themselves) just as they are."
She recommended this read to me the other day - whether she expected me to actually follow through is besides the point, and I did that very day, to my great delight and pleasure.
A Boy Named Queen
is an excellent, short chapter book starring a ten or twelve year old girl who is just going back to school, and on her first day, a new student is transferred into her class.
His name is Queen.
It's incredible how one small detail - one small quirk - that causes a person to stand out from the crowd can pave the way for all kinds of bullying and harmful teasing. But we've all seen it happen. From where the narrator sits, the only thing really different about Queen is his name: Queen. He is just as interesting or uninteresting as the rest of the children in his class - just as quirky or conventional as our main character, Evelyn, and simply because of his name he is treated differently.
The story is written for children around the ages of 8-12; short chapters with a voice for description and dialogue that a child would come up with. The story is a gentle but effective way to promote the welcoming of differences and the acceptance of the unexpected. The author, Sara Cassidy, has a gift for making the children's mocking reaction of Queen seem unfair and completely unfounded, rather than blatantly pounding out an opinion or rule. By following this narrative, the mind is guided toward the conclusion of the story, lacking any kind of force but holding a hugely significant amount of conviction.
I'm definitely older than 12, but I found
A Boy Named Queen
to be unparalleled, refreshing, and an absolute joy to read. Hats off to Sara.
--Elise T--
For more information about
A Boy Named Queen
by Sara Cassidy, visit our website
here
.