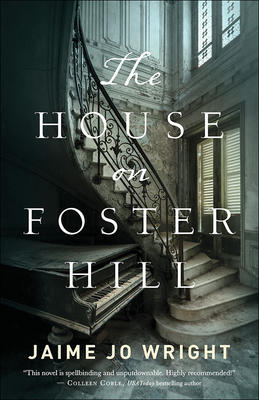 Colleen Coble comments that
The House on Foster Hill
, by Jaime Jo Wright, is "spellbinding and unputdownable". I think, ringing even truer, is Kristy Cambron's review--"The suspense grips early, holds fast, and doesn't let the reader go until the last satisfying page".
I had a hard time reading this one at night, truth be told. Jamie Jo Wright has a way with mystery, and writing it in a way that has you looking over your shoulder every once in a while. If that's not your cup of tea, this is a fair warning, but if you're a little bit of a thrill-seeker--even just the smallest bit--this book could be for you.
The story of
The House on Foster Hill
is split between two characters--Ivy Thorpe in 1906, and Kaine Prescott, present day--exploring the same location: Foster Hill House. A mysterious and tragic murder starts the story off in Ivy Thorpe's time. She's accompanying her father to where the body is found down the hill from Foster Hill House, stuffed in an old hollow tree.
Cut to Kaine Prescott. She's just purchased Foster Hill House from a "credible" sourced realtor, only to discover that the building is in a state of such disrepair it's uninhabitable. With the noble intention of renovating the place in her late-husband's memory, she's also horrified to discover that the stalker she was fleeing from in her hometown has followed her to the porch of her new, crumbling house. He's been taunting her with daffodils, and now she finds a picture of her late-husband--who Kaine suspects was murdered--in one of the upstairs bedrooms.
Has her stalker really followed her all the way here, or is this some twisted copycat? Or worse yet, a troubling set of coincidences further confirming Kaine's spiral into insanity?
Personally, I see no better way to spend my cold, rainy evenings than curled up in a blanket with some tea, feverishly unraveling the plot of some chilling mystery. Jaime Jo Wright had me hooked with this one.
The House on Foster Hill
is a brilliant, gripping page-turner, more than fit to be devoured by the next unsuspecting reader.
--Elise T--
For more information on
The House on Foster Hill
by Jaime Jo Wright, visit our website
here
.