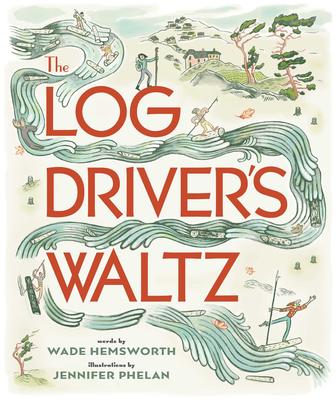 I was so excited when I saw they had made a picture book version of the Log Driver's Waltz. I grew up listening to the playful, whimsical song from the 1979 original short film, and I couldn't wait to get my hands on this book.
The story is about a young girl whose parents want her to marry someone respectable and well-to-do - a doctor, a merchant, or a lawyer - but she is in love with a log driver, who woos her with his talent for dancing - a talent he has developed driving logs. It is a charming, lighthearted story that brings history to life.
Jennifer Phelen has outdone herself with the illustrations. Her style combines elements of the 1920's - both city and country - and the 1970's, when the original film was created, and the pictures perfectly match the style of the song. There are some precious details that add an extra sweetness to the story, like the log driver checking his reflection in a waterfall before the dance. While this picture book would be delightful for any child, it would make a great addition to a classroom, or to complement a children's study of Canadian history.
-Aliah-
For more information on "
The Log Driver's Waltz
" by Wade Hemsworth, visit us in store or visit our website
here
.