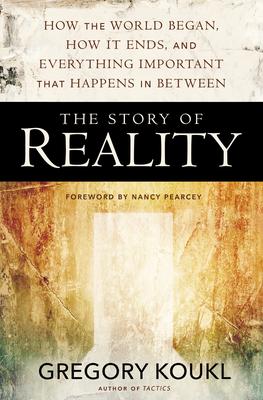 Gregory Koukl
, author of
Tactics
, released a new book earlier this year entitled, The Story of Reality: How the World Began, How it Ends and Everything Important that Happens in Between. And it's only 160 pages.
This book is recommended by well known authors such as – Lee Strobel,
Rick Warren
,
Joni Eareckson Tada
,
J. Warner Wallace
,
Sean McDowell
,
Nancy Pearcey
and many more.
Here's what Fred Sanders, author of The Deep Things of God, had to say about this book: "When I looked into Koukl's Story of Reality, I thought, 'This is not how I would say this.' I would have used more technical terms, added quite a bit of history, expanded it by a couple hundred pages, and put in about a thousand footnotes. So readers can rejoice that, instead, Greg Koukl is the right man to tell the story in such a clear, concise, and conversational way. This book explains the central ideas of Christianity and answers questions people are really asking."
And I agree. For many of us, books filled with "churchy jargon" are incredibly intimidating, whether we've grown up in the church or not. In The Story of Reality Gregory Koukl has taken the convoluted history of humanity and made it bite size. This is not to say he has dumbed anything down, rather, it's like he's asked you to pull up a chair and have a conversation with him about these big truths of our reality.
Koukl is asking both the Christian and the non-Christian to think about the world around them. To use reason to assess Bible's worldview because being a Christian is not meant to be "a leap of
blind
faith".
This book is something I would give to a non-Christian seeking answers, a high-schooler feeling challenged in his faith or a Christian friend who wants to better understand the Biblical story. It's something I think should be on every church or school library's shelf.
-- Kristyn --
For more information click
here
to visit our website