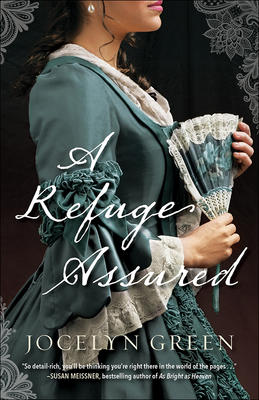 I'm going to be honest for a moment. I have a hard time finding Christian fiction that I
really, really
enjoy, let alone Christian historical fiction. I find a lot of it to be cheesy and predictable and a little... boring. I'm very picky. It's been a long time (which is sad) since I found a book from this genre that beautifully describes a certain era, and builds character development that's believable. And that's not all about a love story. I love a good love story as much as the next girl, but sometimes I really want to read a book that doesn't revolve around it, or it's not the main focus. I must say, Jocelyn Green has been a breath of fresh air.
A Refuge Assured
takes place just as the French Revolution begins in 1792, when lacemaker Vivienne Rivard learns that her occupation will likely get her killed by the guillotine like it killed her dear aunt. When her last remaining relative, her mother, dies from a terrible fever, Vivienne escapes France and travels to the United States to the capital, Philadelphia. But she soon finds out that danger lurks in the French Quarter as Revolutionary sympathizers begin to suspect a young boy left in her care might be the Dauphin.
Militiaman Liam Delaney proudly served in the American Revolution, but now that the new government has placed an oppressive tax on whiskey that impacts his family, he barely recognizes and questions the new democracy that he fought so hard for. He then meets Vivienne and they are drawn together in surprising ways to fight for the peace and safety they both long for.
I enjoyed this book immensely. The story flowed with a nice pace that didn't feel like the author was trying to fit too much into the 400 pages, but wasn't so slow as to be boring. Overall, a very well written story that reminds us that, no matter where we are and what our situation is, our refuge is in Christ. All we need to do is trust in him.
--Elise F--
For more information on
A Refuge Assured
by Jocelyn Green, visit our website
here
.