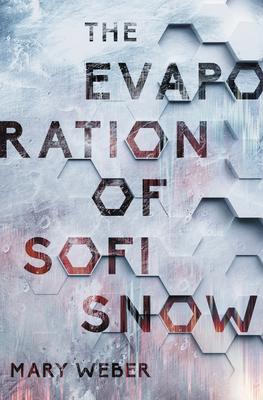 The Evaporation of Sofi Snow
was published in June of this year (2017) and has been screaming at me from my to-be-read list ever since. I dove in a couple of weeks ago and was not at all disappointed - I finished reading it in two days between work shifts, homework, and several instances of inescapable socializing. Mary Weber has held my attention in the past, for a full trilogy of fantasy and world-building wonder in the form of
Storm Siren
and the subsequent sequels (which you can read about in my general raving and gushing
here
for the first two and
here
for the third installment in the series). And so, I had high hopes for
The Evaporation of Sofi Snow
.
In the first two or three chapters I was a little afraid I would be reading a
Hunger Games
meets
Divergent
rewrite but I was gloriously mistaken. Weber introduces an aspect of science fiction to her post-apocalyptic world right from the beginning that neither of these series invested in - aliens - and it is a never-ending ride of twists, turns, and suspense. If you can't stand a cliff-hanger, you may want to wait until the sequel is released - the way she left me hanging in this one nearly made me scream. It's been a while since an ending got to me that well. Mary Weber, colour me impressed.
Sofi and Shilo are her inseparable sibling characters at the crux of the story, and Miguel is the troubled, mysterious, enemy-of-my-enemy-is-my-friend, with a complicated history between him and Sofi to make the drama all the more real. This is everything my YA-Fiction-loving heart could ask for: drama, troubled teens, broken relationships, close sibling relationships, virtual gaming, futuristic technology, strong female characters in prominent roles, blackmail, human experiments, and of course, nothing is ever as it seems.
The sequel,
Reclaiming Shilo Snow
, is set to release in March of next year. I will be waiting with bated breath, falling off the edge of my seat in anticipation. This new series by Mary Weber is my favourite in youth fiction this year. March 6th, come quickly!
--Elise T--
For more information on
The Evaporation of Sofi Snow
by Mary Weber, visit our website
here
.