Once again, here is a book that did not lure me in of its own power or weight or merit, or even cover. I read this book because of controversy - the controversy and debate around the person of Rob Bell and authors like him. A little while ago I reviewed one of his earlier books,
Love Wins
. You can read my post by clicking
here
.
"What is the Bible?" is not a question that I would consider "safe" for a number of different reasons. It's a question that sparks conversation and makes people think. It's a question that brings people to ideas and conclusions that will inevitably differ and disagree one from the other, from the other, from the other. Rob Bell does this in such a way that I am enveloped in questions, rather than answers. I am overloaded with wonder rather than conclusion, idea rather than opinion, suggestion rather than hard-and-fast rule. He writes in such a way that leaves my thoughts fluid, shifting, dancing (Mennonite-Brethren-heritage-say-what?), and open to change.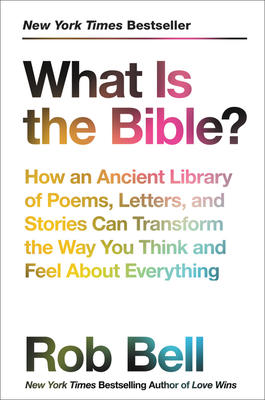 As a child of Mennonite-background parents and grandparents, where dancing was once strictly forbidden, that may be a very terrible metaphor. But that was then, and this is now.
That was then, this is now, and who is to say that the defensive, angry, debating reaction to Rob Bell's perspective won't change in much the same way in the years to come? Perhaps it will be gradual, over many years. Perhaps not at all. Perhaps some parts will come to be accepted with open arms, other parts discarded in search of further truth...
That is the way of the world, isn't it? The world is never static, always changing. I am not suggesting that the Bible itself should be open to change - having a closed canon is not a bad thing. The thing that could be open to change is our opinion, perception, and interpretation of this "ancient library of poems, letters, and stories".
Bell is painting a picture - he is hand-crafting a masterpiece of colour, wonder, and beauty with the black and white ink of words on pages, and it can "transform the way you think and feel about everything". That's the wonder of thoughtful art, and the wonder of what Rob Bell keeps doing with thoughts and words and questions and ideas. This book takes a look at the Bible and talks about how it should be read and understood. He talks about context and history and origins.
What is the Bible?
is a book about questions:
- Why should we bother with such an ancient book?
- Isn't it all myths and fairy tales?
- What about all the violence?
- And the contradictions?
- Isn't it dangerous to take seriously?
- Isn't it only for Christians?
- Is it inspired?
- Can it help us?
- Just what
is
the Bible?
It's all about the questions, and not just these. And rather than becoming all about the answers, Rob Bell has an incredible way of remaining in the sea of questioning. Instead of pretending that he has it all figured out, he is content to sit with the questions - the hard questions - and listen for the wealth of answers that
could
be.
--Elise T--
For more information on
What Is the Bible?
by Rob Bell, visit our website
here
.