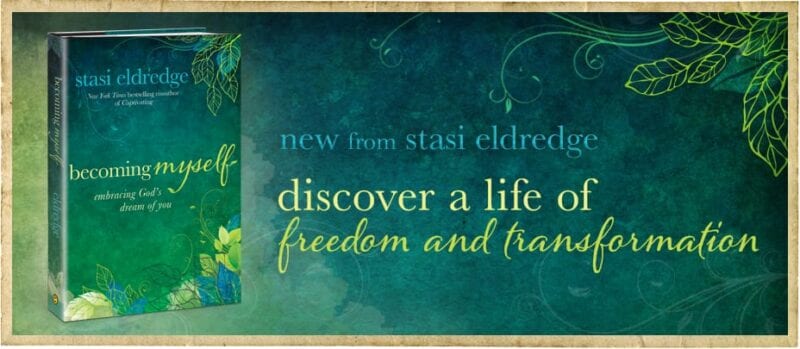 Stasi Eldredge has the unique and cultivated perspective of a woman who is learning to give thanks and praise to God through her sufferings and pain. It is a simple thing to thank God when everything seems to be exactly as you want it - a simple thing to praise God for the good in your life, in smooth sailing. But when the storm hits, that thanks and that praise is all too easy to forget. We turn to anger.

We turn to blame.

It is a simple thing to blame God. He's in control of everything, isn't he? He knows what will happen before it does - he is outside of time.
This is all true and good. But it does not mean that he thrusts suffering upon us. And this is only one of the many issues that Stasi Eldredge covers in her book,
Becoming Myself
. Letting go of the blame we have for God in times of trial is one of the crucial elements of drawing closer to him, and in that closeness it is only natural for us to be more of who we were meant to be.
The art of becoming oneself is a longer, harder, much more arduous road than one might imagine. Why is there so much that gets in the way? Why do we have to fight so hard?
These are not baseless questions. And they don't have to go without answers.
Why are you struggling with the things you do? There is a reason. It is found in the life you have lived, the wounds you have received, what you have come to believe about yourself because of them, and not having a clue how to bear your sorrow. It is also because of who you are meant to be.
It is not too late. It is not too hard. You are not too much. God's mercies are new every morning. There is mercy in his eyes even now.

-- Chapter 1: does anyone ever really change? --
Stasi's assurances are written powerfully. Simply. Truthfully. Her voice carries the gentle tone of understanding and caring that can be hard to find even with the closest of friends, without the feeling of the figurative pat on the head and the sound of the condescending tone that is sometimes too easy to hear. She draws you in, builds you up, and hands you the strategies to stay there on a pinnacle of confidence.
That is not to say that you will stay there. That is not to say that the hard times won't be too hard any more. But taking the time to hear what she's saying, and taking her words to heart, does make it easier to come back from those hard times. Even if it's only by a little bit.
It is worth it.
You
are worth it. And that, ultimately, is what she wants
you to know.
--Elise--
For more information on Stasi Eldredge's
Becoming Myself
visit our website here:
http://www.houseofjames.com/store/details/9780781409957