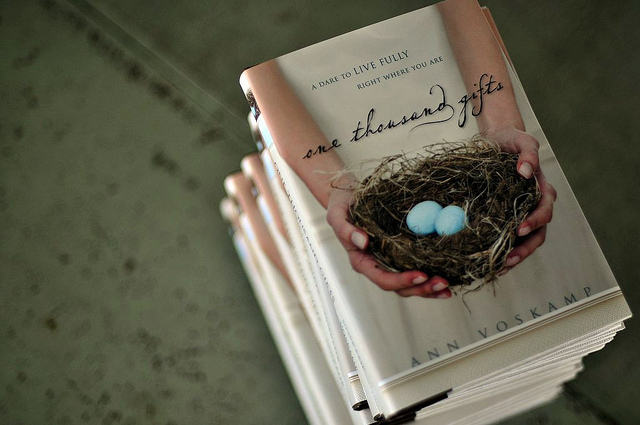 What if I opened the clenched hands wide to receive all that is? A life that receives all of God in this moment? How do you do that when terror tears up your throat and you wear the burn scars of a razed past?
Chapter 8: How will he not also?
As Brittany will share with you, the cover of this book is not the only thing that makes it so attractive. But the cover does call to me, in a way. Which, naturally, means that I know I'm going to end up reading it one of these days. That is, once I get through all of those other books whose covers drew me to them. They say to never judge a book by its cover, but don't we do it anyways? An aesthetically pleasing cover could be the tipping point between intrigue and desire.
And now, to Brittany:
I recently stumbled across "One Thousand Gifts" by Ann Voskamp. From first glance the cover intrigued me, and as I began to flip through the first chapter, I couldn't put it down. I wanted to take in as much as I possibly could. At the same time I longed to digest it slowly, savouring each word. As I read, I stepped into her world and my heart was quieted. Words of gentle grace and a profound understanding of the gifts of God permeated each page. Ann guides her readers through her journey of discovering gratitude, and the power of truly giving thanks to God. She spoke openly of her struggles and pain, and I gained respect for her quiet wisdom. She challenges her readers to lay aside their pride, and embrace surrender to the Lord who lives and loves, who gives good gifts and hears the anguished whispers of broken hearts. Life can be hard, and souls can feel broken, but "One Thousand Gifts" guides you into the deepest truths of God's love, where his goodness overflows, and thanks is the only response your heart can make.

~Brittany Beacham
Ann's writing style is engaging and gripping, even in the few pages that I have read. Once you start, it will be hard to stop. And if you're anything like me, that's probably exactly what you want to hear.
~Elise
For more information on Ann Voskamp's One Thousand Gifts, visit our website here: http://www.houseofjames.com/store/details/9780310321910