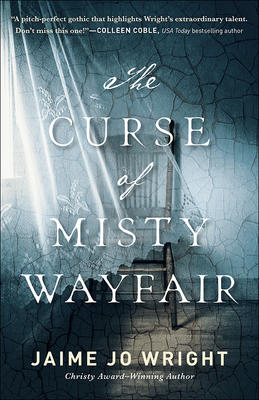 Questions of identity, family conflict, wondering whether God cares, and ghostly apparitions popping up in windows to scare your socks off...
I love Jamie Jo Wright. She writes creepy in a truly wonderful way.
Much in the style of her debut novel,
The House on Foster Hill
(read my review on that
here
),
The Curse of Misty Wayfair
is written split between two timelines - 1908 and present day. Between Thea Reed, lonely orphan and postmortem photographer on the search to find her mother, and Heidi Lane, visiting her own mother who struggles with dementia, Jaime Jo Wright spins another brilliantly frightening novel. The curse of Misty Wayfair is an unexplained phenomenon lingering over a place called Pleasant Valley, where both characters seem to find their way home. An old, questionable asylum in the woods and sightings of a woman long-believed dead - in both timelines - make for a chilling and terrific tale of mysteries, relationships, mental illness, and old family secrets.
I found myself drawn by Thea Reed and her adventurous spirit, and Heidi Lane amidst her bouts of anxiety and panic attacks. The characters compelled me, the dark shadows and voices whispering in the woods scared me out of my pants, and the two timelines pulled me along in a riveting twirl and dance that I couldn't put down.
I'd recommend this for adults, teens, and young adults alike -- anyone who likes a little bit of a thrill, a chill, and classic campfire ghost stories.
--Elise T.--
For more information on
The Curse of Misty Wayfair
by Jaime Jo Wright, visit our website
here
.