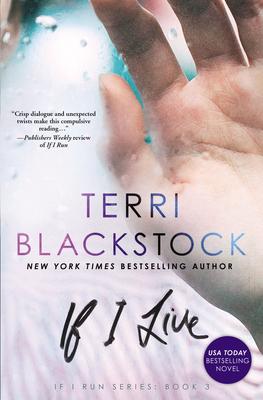 If I Live is the third book in Terri Blackstock's If I Run Series.
This series is a shoe-in for sucking you into a reading vortex, since I read the first two books in 8 hours. I paused life completely. Literally did nothing but read, I think I barely ate that day because that would mean I'd have to stop reading and clearly that would have been the end of life as we know it. So it's a big deal, folks. Because us millennials love our food, especially all the hipster trends like avocado toast.
Book 2 ended on cliffhanger and I gut-wrenchingly waited 12 WHOLE MONTHS for this last book to finally come out, so if you haven't read this series yet, you are surely blessed because you won't have to endure that pain & suffering.
All I can say is WOOWOWOWOWOW.
This was an amazing close to an incredible trilogy. The suspense did not let up and I was left gasping for breath at a couple of points, dying to skip ahead and find out what had happened… But I behaved.
The premise of the series is basically about a girl named Casey Cox, who is framed with murdering her best friend. She is on the run for her life and oh the intenseness of it all. Dylan Roberts is the private investigator who was hired to hunt her down, however he now believes Casey and fights to expose the truth, with hopes of finally freeing Casey. But Detective Keegan is desperate and fighting for his control. He'll stop at nothing to shut up Casey—and Dylan, and anyone who gets in his way. Death is frequent within the series, as evil is very present within the pages. Murder is a major part of the plot, so the body count is high. LOTS of people die. Some of the violence definitely gets disturbing. I'd only recommend this series for 16+.
GOODNESS! The suspense! I was literally on the edge of my seat reading the entire book. The author tackles tough issues of horrifying evil with hope and justice. It's not just an incredible page-turner; it's a story with depth and truth to it.
It was such a delight to finally see Casey learn to trust God and to grow in her faith despite her circumstances. I loved the strong Christian message in this book, and the assurance given to readers that nothing is too big for God's sacrifice to offer forgiveness for—but that believers should be ready to count the cost and give up their sins.
For more information about If I Live by Terri Blackstock, visit our website here.