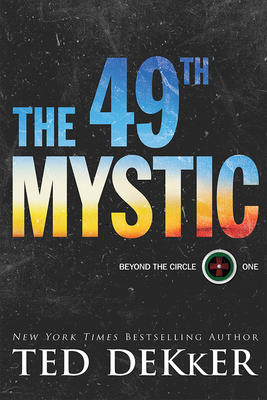 When Ted Dekker released the final title,
Green
, in his four-part series called
The Circle
, I thought that would be it for Thomas Hunter and his dreaming dance between worlds. I devoured that series like the book-monster that I am, and the subsequent parallel series of seven called
The Lost Books
. That he would release yet another book tied into this dream-world wasn't anywhere in my horizon of hopes or daydreams, and yet here we are:
The 49th Mystic
.
This is book one in a two-part series called
Beyond the Circle
, and the second book is supposed to release this Fall, 2018. I snatched up
The 49th Mystic
and finished it in two days, and while it did start slow, the signature breakneck-pace that I've come to expect from Ted Dekker shone through. At about the 1/3 mark, the story really picked up and didn't stop again until the very last, exquisite, jaw-dropping, cliff-hanging page.
The 49th Mystic
follows a young blind woman named Rachelle who dreams of the same world where Thomas Hunter fell through some years ago. The desert, the Horde, the Albinos, the Roush, the Shataiki--everything that makes the world of
The Circle
--shows up again in this hugely-anticipated sequel. Dekker takes his time at the beginning setting his stage and introducing Rachelle to the two worlds, and then he takes us on another ride-of-our-lives adventure that won't stop until several months from now.
I don't know how I'll hold out until the fall to find out what happens next, but I'll be there, clawing and drooling or whatever, as soon as the next book is out.
--Elise T--
For more information on
The 49th Mystic
by Ted Dekker, visit our website
here
.