Camelot is in trouble again, and one little mouse must find a way to save the great city.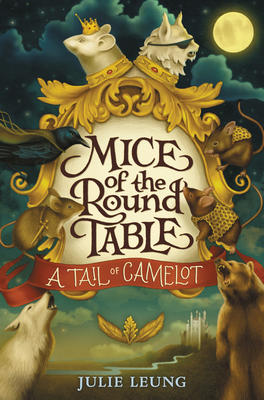 The myths of King Arthur, the Sword in the Stone and Camelot have been retold countless times, in varying formats and styles. In fact there's a new Hollywood take set to come out this year. It's the timelessness of the rise of the ordinary to the extraordinary adventure that carries this story through the centuries to capture imaginations old and young. I know I love it. It's part of what drew me to this juvenile fiction by debut author Julie Leung.
Young Calib is a mouse of Camelot, training to become a knight. These mice have been tasked by Merlin to protect the castle from smaller intrusions while in turn the castle provides them with protection from the elements and bigger predators. When tragedy strikes, dark forces begin arising around them, and Calib must find a way to unite all the creatures before it's too late.
Leung has crafted an endearing tale of bravery and working together for children (and adults) to enjoy. The story is great, the characters are engaging and there is a great moral for all to learn. She crafts this neat dynamic between the humans and the mice without trying to make them a large part of each other. Now this isn't Narnia. They don't communicate, but the two stories intermingle in neat ways. Told from two points of view, the story moves between Calib and the page Galahad, the absent Sir Lancelot's son. Both have to struggle to feel acceptance in their world, and to overcome their fears to save the kingdom.
A new
tail
of Camelot, this is a great addition to the library of any knight/animal loving child, with just enough magic to spark joy; without the story being held together by it.
--Lauryssa--
For more info, check out our website
here
, or come in store.