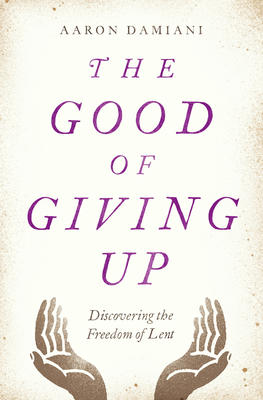 Lent is upon us. The season of giving up. To me, it's always been like the Christian version of new year's resolutions: an attempt at curbing some bad habit, or to try to become more healthy. Aaron Damiani's
The Good of Giving Up
reveals the season of lent as so much more than that.
This tradition of fasting and prayer before the celebration of Christ's death and resurrection goes way back. While some may say it's not mentioned in the Bible, it is steeped heavily in the teachings and life of Jesus himself, and the Judaic traditions. Damiani delves into the rich history of Lent and gives the reader a quick overview as a basis for understanding it's importance in our lives. With that context in mind, he provides his guidance as a pastor as to the way to approach the season of Lent, not just practically but also spiritually.
The Good of Giving Up
reads well, like having coffee with your pastor. Damiani has written with a great heart for the reader to seek God in all of their life, using Lent as just another part of the Christian calendar. At the end he even includes helpful tips and tools for parents and leaders to prepare and lead those under their care for the Lent season.
--Lauryssa--
For more info, check out our website
here
or come in store.